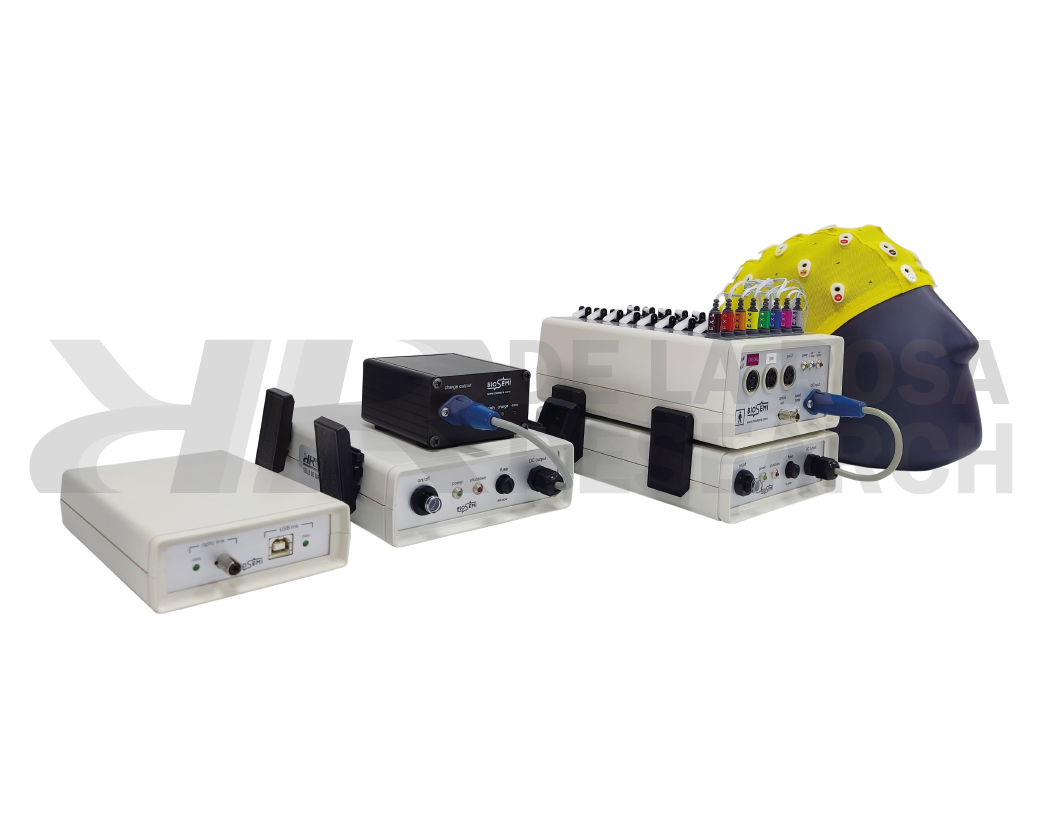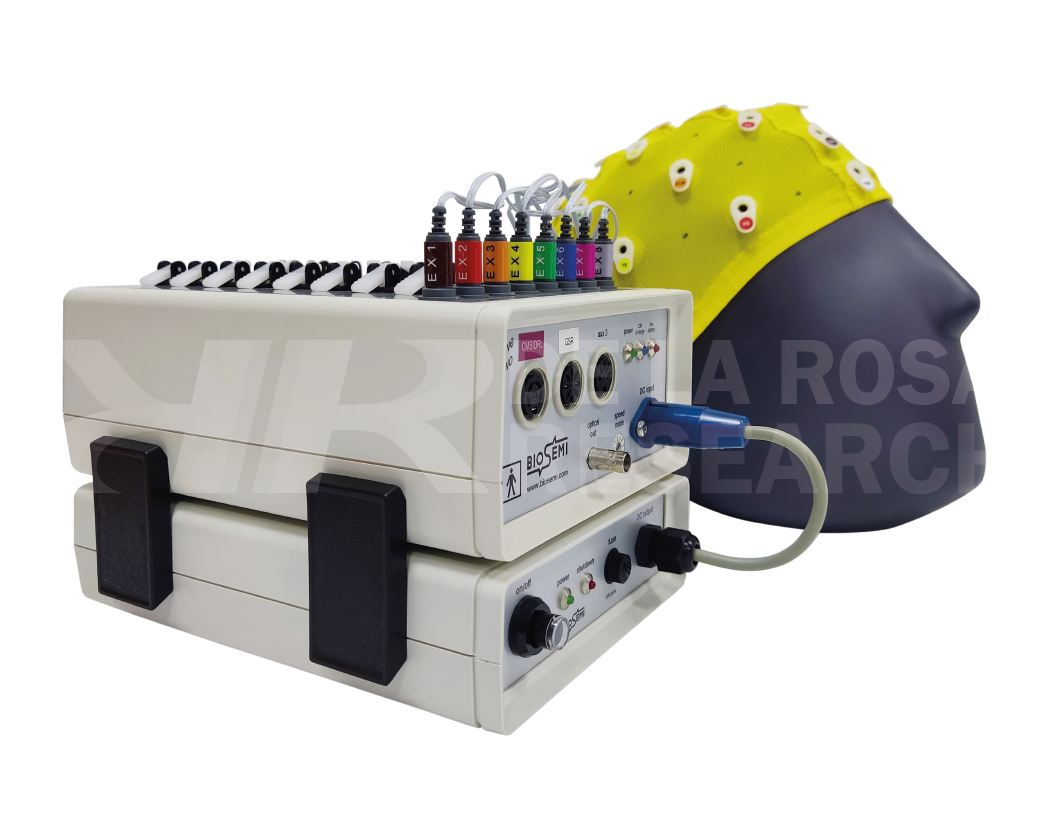 BioSemi's goal is to provide the scientific community with state-of-the-art instrumentation for electro physiology research.
Using the latest available technology and offering maximum freedom of configuration and flexibility to integrate our hard- and software in your laboratory setup are the key principles in our designs. Our products are specifically designed to be used in research applications only.
They are optimized for this specific application by offering features like: freely configurable hardware and completely open-source software, BioSemi does not develop or produce products for medical applications.
What makes BioSemi unique?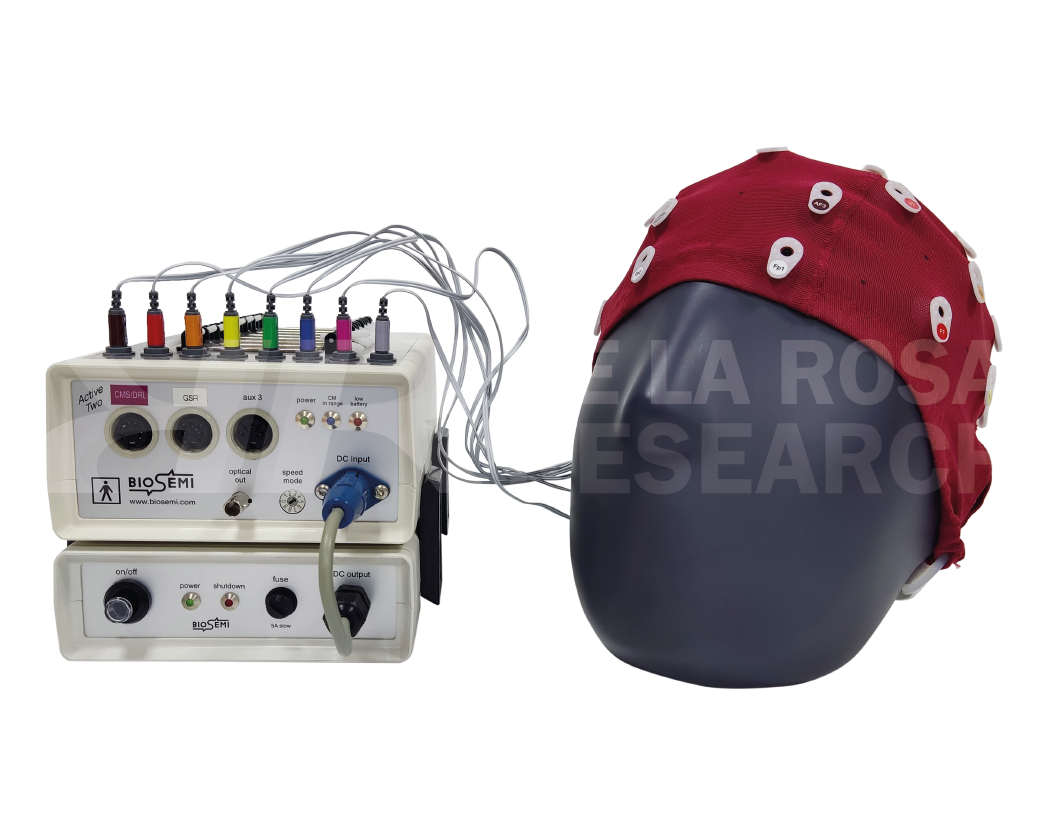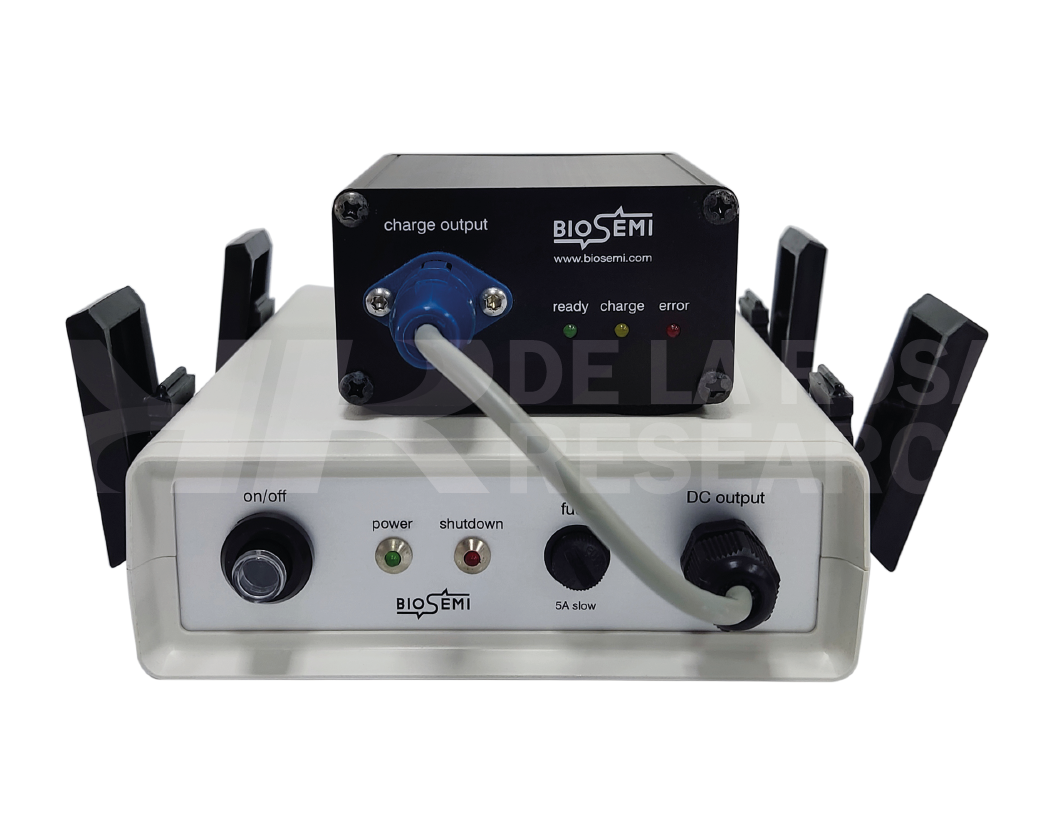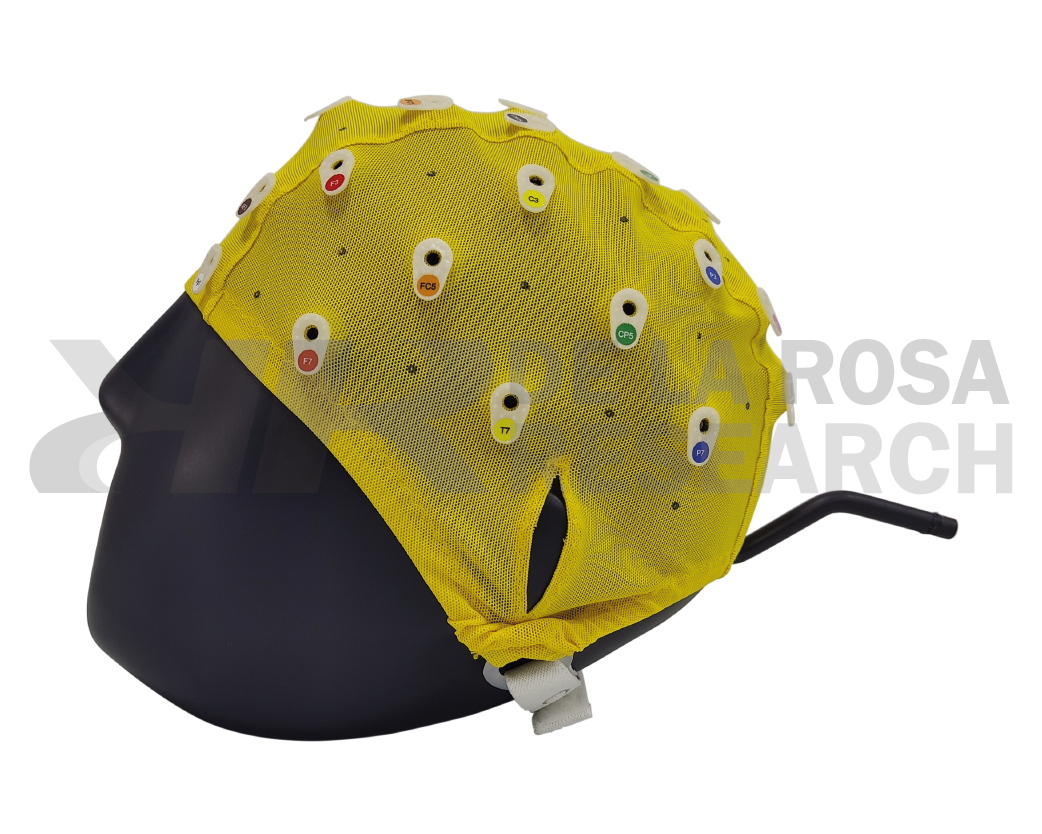 The BioSemi system is an "active" EEG acquisition system. It is referred to an active system as its electrodes are active, which means that they amplify the signal at the level of the scalp.
Characteristics :
Head cap with 64 active electrodes + 8 exogenous electrodes (EOG (vEOG, hEOG), References)
Applying the head cap requires the application of a conductivity gel.
Is synchronised with the Eprime stimulation system.
2048Hz
Suitable for research outside of the clinical context.
Impedance range: 20 kΩ
EEG - ECG - EMG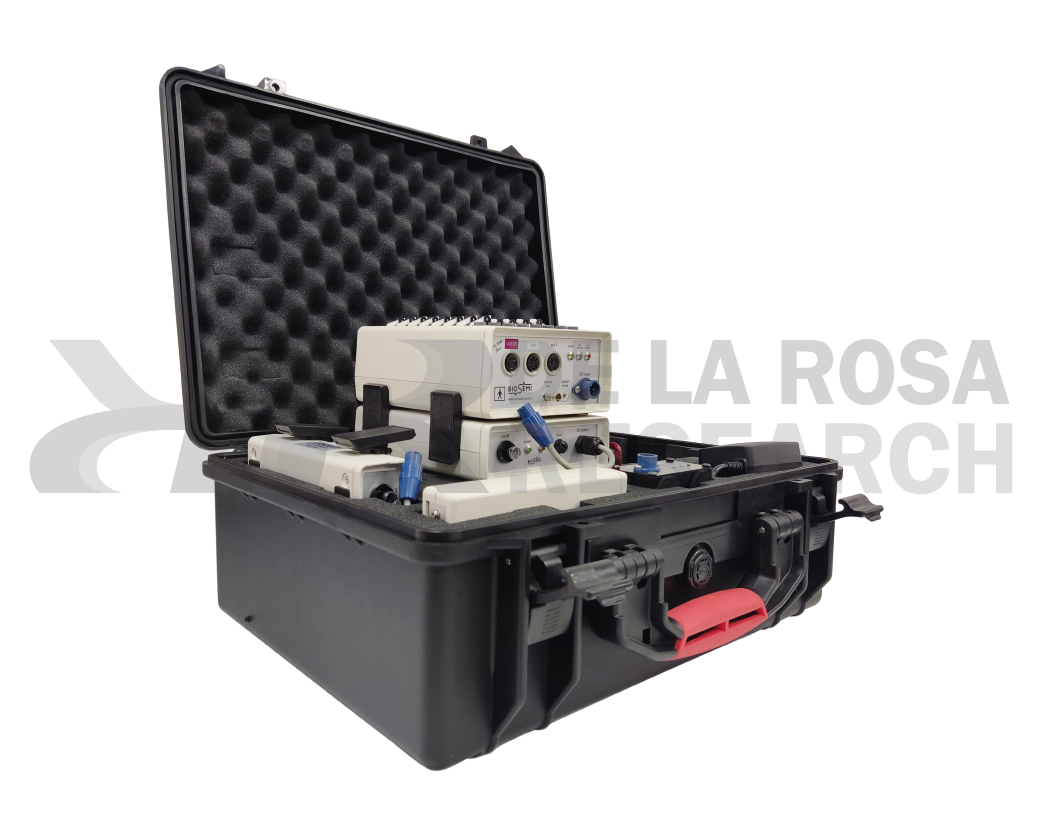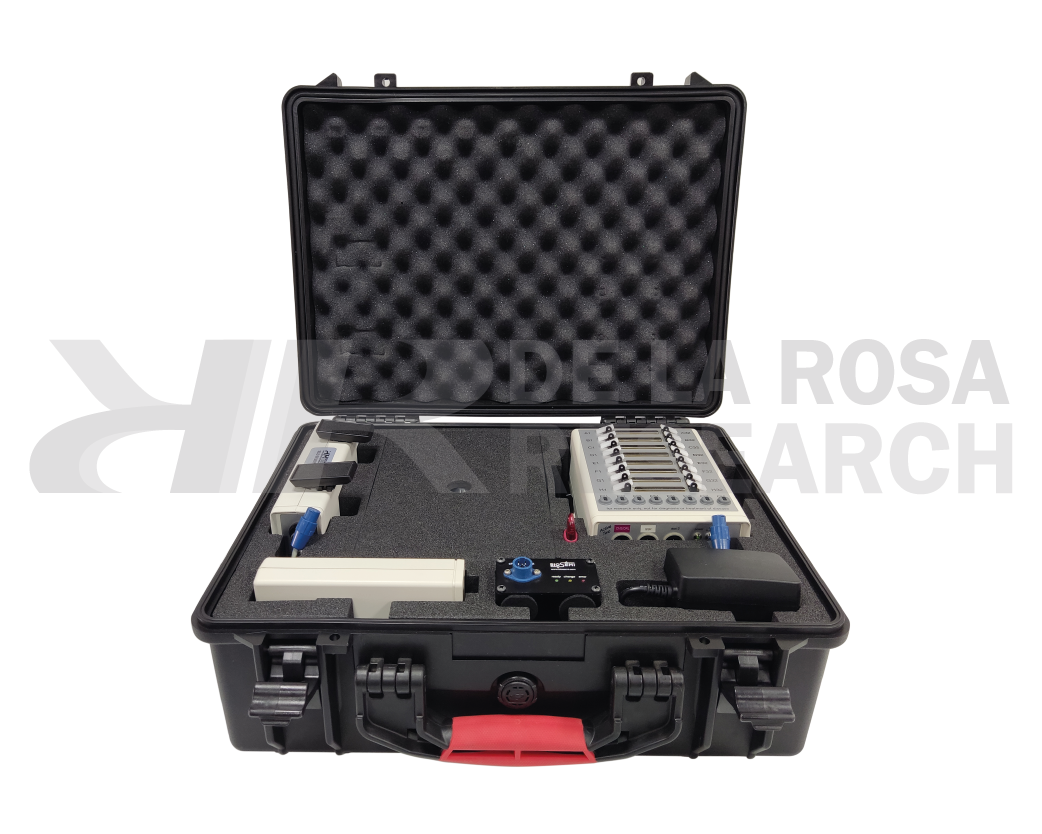 EEG
The BioSemi "Pin-type" Active electrode has been designed especially for mounting in BioSemi headcap's.
The electrode has a sintered Ag-AgCl electrode tip, providing very low noise, low offset voltages and very stable DC performance.
Standard sets have 32 electrodes on a common connector with 140 Centimeter cable length. (Other cable lengths are available on request.) The electrode is completely resistant to long term water and alcohol submergence enabling easy cleaning and disinfecting. The electrodes are numbered with water-proof stickers for easy channel recognition.
The BioSemi headcap is a novel concept for high density EEG measurements. The plain cap only exists of the electrode holders. No electrodes or wires are attached to the cap. This allows for very fast placement of the electrodes according to the procedure described below. Preparation times as low as 30 minutes for a 128 channel EEG headcap are realistic.
Because of the Active electrode principle, high electrode impedances do not influence the signal quality. Therefore, any skin preparation can be completely omitted. The location of the electrodes can be easily determined by the user, more info can be found in the "Make Cap Question"
ECG
For BSPM applications, BioSemi, produces an unique version of the active electrode. In cooperation with University of Auckland, New Zealand , Dept. of Engineering Science, flexible rubber strips with integrated carbon electrodes and a preamplifier were developed. The strips interface with the ActiveTwo AD-box to form a complete BSPM system with up to 195 ECG channels with 59 spare channels for extra electrodes or auxiliary sensors.
By choosing different combinations of Panel 4x8 and Panel 4x12 sets, various electrode layouts can be configured. The ActiveTwo system is the only 24-bit, true DC, 195-channel, battery-powered BSPM system available.
Application time for this electrode system is short. For example, In recordings with 12 strips (one Panel4x8 and two Panel4x12) the following times were found as typical values:
Preparation: attach adhesive rings and fill with gel: approx. 20 minutes
Application: stick the strips to the subject: approx. 5 minutes
Cleaning: remove adhesive rings and clean out gel with soapy water: approx. 20 minutes
EMG
EMG signals are measured with a High density array of gold plated pins used as dry electrodes pressed on the skin. No electrode gel is used because this would short the space between the closely spaced electrodes (5mm) Because the electrodes are simply pressed on the skin, very high electrode impedances (up to 1MOhm) can be found. However, thanks to BioSemi's high quality battery powered front-end, excellent signal quality is still assured (noise is smaller than 10uVpp) even with these difficult electrodes.
The array is developed as an alternative to invasive methods like needle electrodes. The array setup provides a lot of extra information about the EMG topography.
130 channel array with 5 mm inter-electrode distance.
Special goldplated electrode-tip allows operation without electrode gel.
Unique none invasive EMG measurements.
Multi-electrode array provides more data than conventional EMG needles.
BioSemi products are intended to be used for research applications only.
Our products are not sold as Medical Device as defined in EU directive 93/42/EEC.
Our products are not designed or intended to be used for diagnosis or treatment of disease.