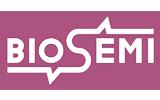 The ActiveTwo system sets new standards for multi channel, high resolution biopotential measurement systems for research applications. The system is a further development of our successful ActiveOne system, the first commercially available system with active electrodes. Advances in technology have allowed us to significantly increase the number of channels, digital resolution, input range, and sample rate, without any increase in size, power-consumption or costs. Second generation active electrodes are smaller in size with less cable weight, while offering even better specs in terms of low-frequency noise and input impedance. The new system confirms the solid lead that BioSemi has build over competing designs during the last years.
Headcap system with the fastest application time.
Reliable measurements without skin preparation.
Battery powered front-end with fiber optic data transfer.
Suitable for EEG, ECG as well as EMG measurements.
Graphical programming (LabVIEW) on PC and Mac.
Full range of auxiliary sensors available.
MEG/MCG compatible digital system.
Up to 256+8 electrode + 7 sensor channels in a single ultra compact box.
Second generation active electrode: smaller size & less weight.
Flexible colored electrode labeling system.
24 bit ADC per channel, unsurpassed S/N ratio and linearity.
Improved digital resolution, LSB value is 31nV.
Full DC operation, largest input range in the industry (524mVpp).
User selectable sample-rate 2, 4, 8, 16 kHz/channel.