The Illusionator Set
Model: 14015A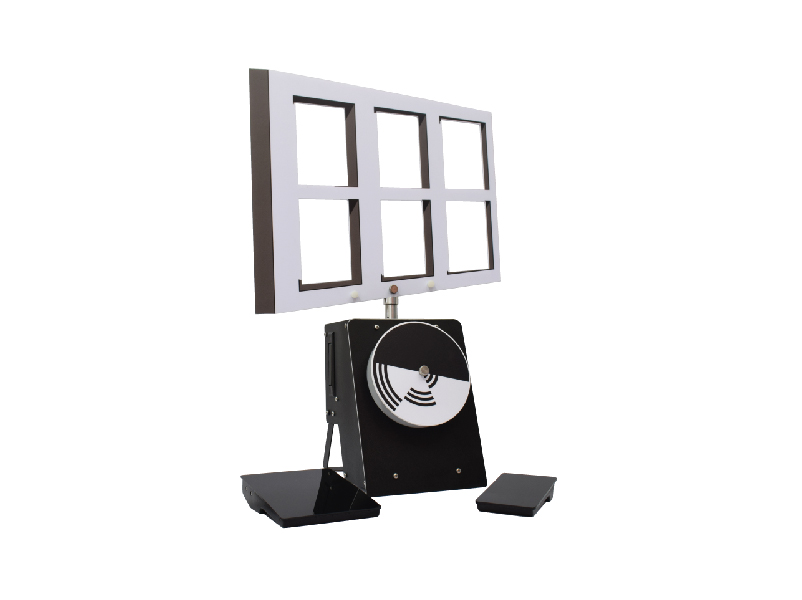 The Illusionator Set is used to study visual illusions. A very unusual assortment of visual illusion cards may be used with the AA86829 Illusionator. This optical illusion set allows demonstration of depth, angle, tilt, movement and color illusions. The unit contains a low speed motor (0-7 RPM) for trapezoid rotation illusion, and a high speed motor (200-2350 RPM) for visual effects disks which create color illusions in black and white, after-images, rotating spiral, zig-zag, and others. The Illusionator Set is excellent tool to be used for any student demonstration or by students in a laboratory.
Line Voltage: 105/125 Volts 60 Hz - 220Volts 50Hz
Number of Motors: Two (2)
RPM (Window Illusion): 1.5 - 7 RPM
RPM (Illusion Disks): 200 - 2000 RPM
Instruction Manual included
12 squares in a package, 7 disks and 1 window included
Replacement Trapezoid Window, model AA86829-1
Seven Illusion Disks, model AA86829-2
Thirteen Illusion Cards, model AA86829-3
LCD and keypad control
USB port for serial communication included.
Easy-to-read LCD display.
RPM and time measurements allowed.
Built from high-quality components manufactured in developed countries -USA, Japan, Germany, Italy, among others.-
Easy to carry unit.
Medical Grade power source -short circuit protected through reprogrammable fuse-
256 steps Motor control -8 bits-.
Aluminum - Stainless steel and acrylic body for sturdy usage.
High resistance (and 100% recyclable) polymer base, easy to clean.
Visual illusions represent one of the major focuses in basic psychology courses (sensation and perception). This field was the scope of many renowned psychologists, forefathers of modern psychological science, as Hermann Von Helmholtz, Wilhelm Wundt, Max Wertheimer, Kurt Koffka, and the Gestalt psychology, among many others. Students will learn about perception; color formation through retinal image ,and pattern-induced flicker colors (Fechner Colors); 3D illusion through shadows, and movement of a single plane; apparent rotation invert through rotational frequency (Ames trapezoid or Ames Window) ;and other visual illusions with this simple-to-use equipment. To observe disks both at High revolutions and low revolutions, the system includes two independent LOW and HIGH RPM motors. This fantastic set also includes classical illusion cards as Ponzo, Poggendorf, Müller Lyer and reversible figures, among others. It is highly recommended both for advanced Biology classes at High School, and Basic Sensory and Perception classes at University level.
As the equipment is set up, students seat comfortably in front of it, and take notes about concepts and theory given by the experimenter. Once equipment is set, students record their observations using the recording formats.They will also be presented with the cards to record results. The experimenter can also provide the subject with the included rotary control to set up and control experimental parameters.