Singerman Color Mixer
Model: 13015A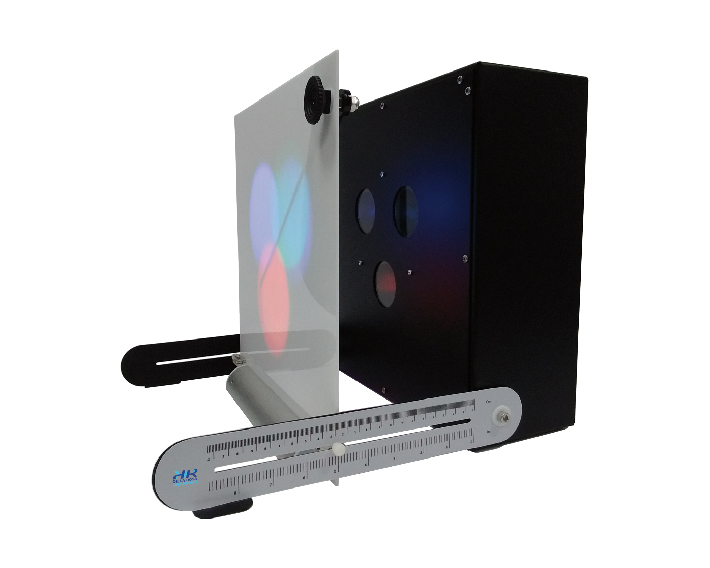 The Singerman Color Mixer is used to display light mixing. Three independent 1.6 Million Color RGB LEDs are included to allow illustrations of primary colors, false primaries, contrast effects, complementary colors, and shadows. The Singerman Color Mixer consists of a light-tight case with a large milk-glass screen. Computer controlled individual RGB LEDs for three stimulus color display through milk-glass screen. The system can display RGB; CMYK (matched to RGB), HSB and calibrated R, G, and B colors, which are selectable with a computer software.
Materials: aluminum, HDPE, and Plexiglass
Dimensions (H x W x D): 28" x 12" x 8"
Current: 5 VDC (through USB port) at 180mA (3 LED at full bright)
Three independent RGB LEDs for 24Bit Color control x 3
8000mcd 140º full-color RGB LED
Weight: approximately 3.5 kg
Ports: USB (B)
Aluminum - Stainless steel and acrylic body for sturdy usage.
High resistance (and 100% recyclable) polymer base, easy to clean.
Black coated electrostatic painting for clueless distraction.
High durability and easy maintenance.
Acrylic window for high resistance and safety.
English or Spanish instruction manual is included
Controls: Computer controlled. PC / Mac / Linux compatible
USB port for serial communication (the software is supplied, at no charge)
Easy to carry, lightweight case.
USB power driven (Computer needed, no AC required)
Allows for custom steady presentation and predefined sequential presentation (recordable to PC file)
Built from high-quality components manufactured in developed countries (USA, Japan, Germany, Italy, among others.)
Ergonomic retractable handle for easy carrying.
Colors are formed in two different ways, either by reflection (subtractive colors) using chromatic dye mixes, or by white light diffraction or refraction (additive colors), using filters or prisms. This system demonstrates the additive color formation using RGB lights and color wheel color formation through light. Color perception is on the main topics in sensory and perception classes. This system is an upgraded design of an old but beloved classic in the study of psychology.
The lightweight body contains three calibrated RGB smart LED arrays that are able to produce 24 bit, 1.6 million colors (16.777.216) x 3. This state of the art equipment is suitable for demonstrations on color perception. The system is portable, and computer controlled for flexibility and accuracy.
Different color arrays can be set with the RGB or HSB options in the main control software. Demonstration of color formation for the light (additive color) system is then then observe. The microprocessor controlled LEDs is set using the computer software. Subjective perception of color presented (color mixes) can be recorded in the provided recording format.