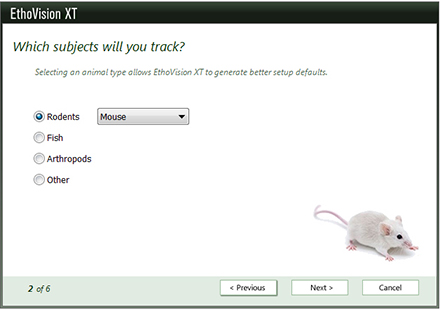 EthoVision® XT is the best video tracking software you can find today. With use of a camera positioned above your animal, it detects and tracks animal movement, activity, and behavior.
Simply put, it is tracking software, but it is so much more than that. EthoVision XT is a platform you can use to fully automate your research, increasing productivity and efficiency, while reducing human error.
We offer EthoVision XT as stand-alone software you can integrate in your working set-up, but we also offer complete packages for lab-tests, such as the Morris water maze test , fear conditioning , and high-throughput zebrafish larvae activity testing .
Clear experiment management.
A versatile and scalable solution.
Reliable tracking: multiple detection methods and setting available.
EthoVision XT operates under both normal light and infrared lighting conditions.
You can track live (using direct input from camera) or from digital video, or track live while recording the video with EthoVision XT. EthoVision XT can handle large video files with a resolution of 1400 x 1000 and higher.
Powerful analysis due to the combination of multiple data selection and parameter selection criteria.
Integrated visualization of tracks gives you a unique look at your data.
Noldus has years of experience in video tracking technology.
Noldus offers complete solutions including mazes. Even custom solutions are possible.
EthoVision is used in more than 2000 organizations worldwide, and published in over 5400 peer reviewed scientific publications.
You can use EthoVision XT for several behavioral experiments, with any animal (rodents, farm animals, fish, etc.), in any kind of arena. Whether you want a cost-effective solution for the Morris water maze test , a high-throughput set-up to test zebrafish larvae , automate a five choice serial reaction time task, or conduct welfare studies with farm animals . EthoVision XT will fit your research.
To summarize it: any animal, any arena.
Tracking and detection
Ethovision XT accurately detects the center point of your animal (and nose points and tail base in combination with Multiple Body Points Module ) and tracks this points as your animal moves through the arena. Several detection methods allow you to fine-tune setting to match your situation perfectly.
In addition to tracking your animal, you can also use activity detection. This allows you to analyze changes in the arena from one video frame to the next in addit ion to movement of the animal. This is ideal to study, for example, freezing behavior in rodents. It is also a great method to use if you want to analyze zebrafish embryonic tail flicks or convulsions.
Even in situations were detection of your animal is difficult, due to poor lighting or when using animals with a similar color (greyscale) to the background (such as white rats on a white background), activity detection will work.
Pick and choose your EthoVision XT set-up
With EthoVision XT Base you can conduct complete experiments with one animal, in one arena. For a basic video tracking set-up, all you need is the software, a Firewire camera, and a computer. With additional Modules other scientific research question can also be answered. For example, study social interaction. Or you might want to create a high-throughput system and track rodents in multiple cages simultaneously. You could also be interested in automating a complete experimental set-up with sensors, lights, automatic doors, and sound stimuli. All this and more is possible with EthoVision XT. Simply pick and choose from the six different Modules and a variety of hardware components to create the solution best suited for your research.
We also offer complete packages (including EthoVision XT software, computer, and lab equipment) for commonly used behavioral tests such as the Morris water maze test and Fear conditioning.
What you get
A basic set-up of EthoVision XT consists of a camera (such as analog, FireWire, or GigE) connected to a laptop or PC with EthoVision XT installed. When you order the EthoVision XT software, you receive a slip case containing the software DVD, a sample projects DVD, a PDF reference manual and – most importantly – a hardware key (dongle). This hardware key is in fact your license and is programmed to use EthoVision XT Base and any other modules you might have ordered.
Of course, you can choose to upgrade your license at any time if you wish to extend your EthoVision XT system with another module. You are free to install EthoVision XT on as many computers as you like, only data acquisition is restricted to one computer at a time.