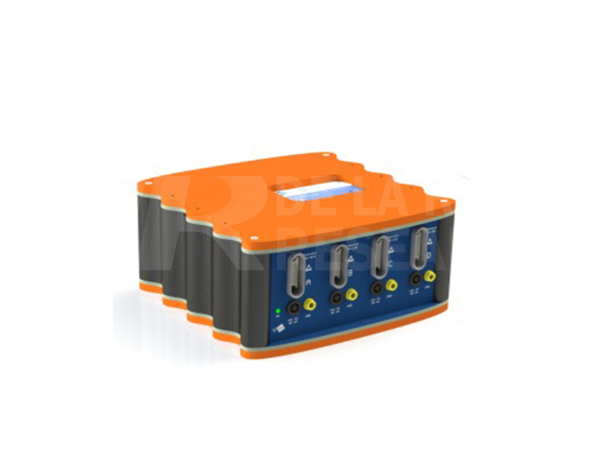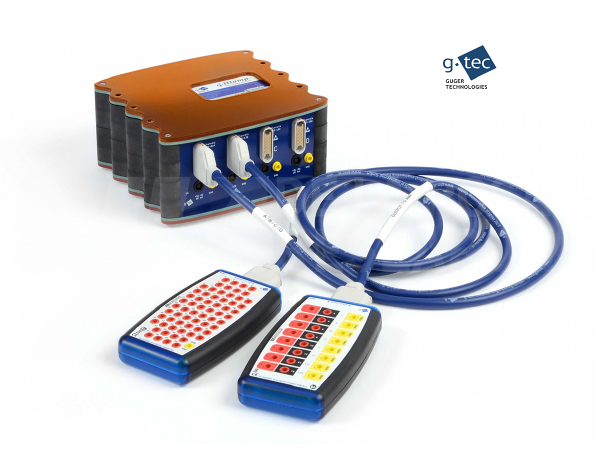 g.HIamp-RESEARCH is intended to be used for research applications only. It is not intended to be used as a medical device nor for diagnosis, treatment of disease or other medical applications. The features of the device are freely accessible and configurable.
g.HIamp-RESEARCH is a 256 channel biosignal amplifier for non-invasive measurements of brain functions for research purpose only. The amplifier, which is colored in orange, has 256 ADC converters with 24 Bit inside for perfect signal resolution and has a wide input sensitivity to measure EEG, ECG, EMG, EOG without any saturation.
External sensors can also be connected. All channels are DC coupled. Internally, signal processing is performed with the fastest floating point DSP and a sophisticated Linux Kernel. The amplifier relies on a very high oversampling to reduce the noise as much as possible by averaging samples. 256 channels can be analyzed in real-time with the g.tec Highspeed Processing for Simulink toolbox. This leads to faster and more accurate control of brain-computer interface systems. The system is equipped with 16 digital trigger channels and a HOLD input for artifact suppression. 80 and 144 channel systems can also be upgraded later on. Each block of 64 channels is connected via a multi-pole safety connector to the electrode interface box. A big advantage is that g.HIamp-RESEARCH can be used with passive or active electrodes.